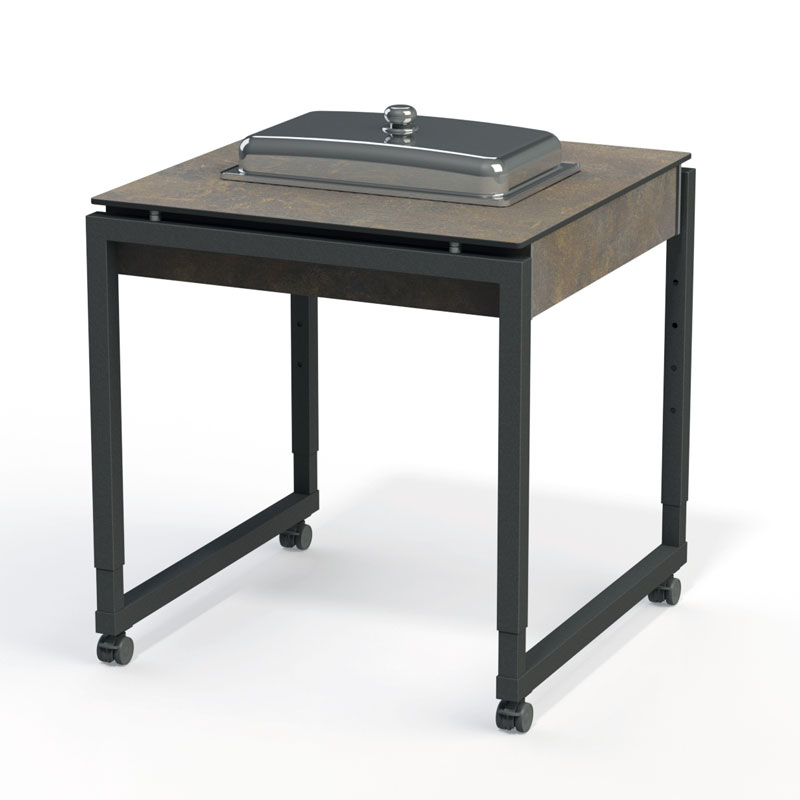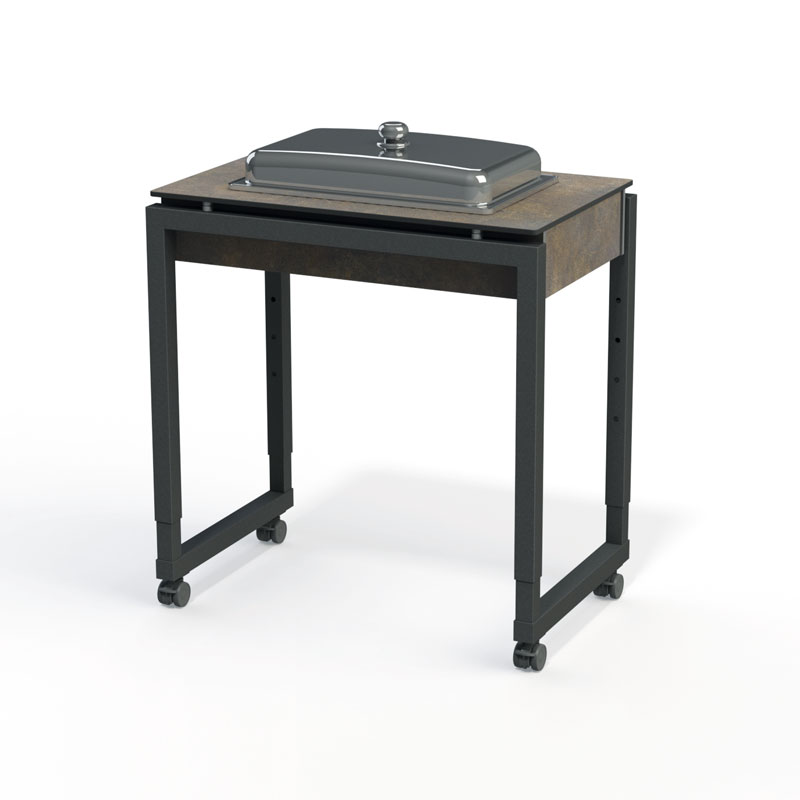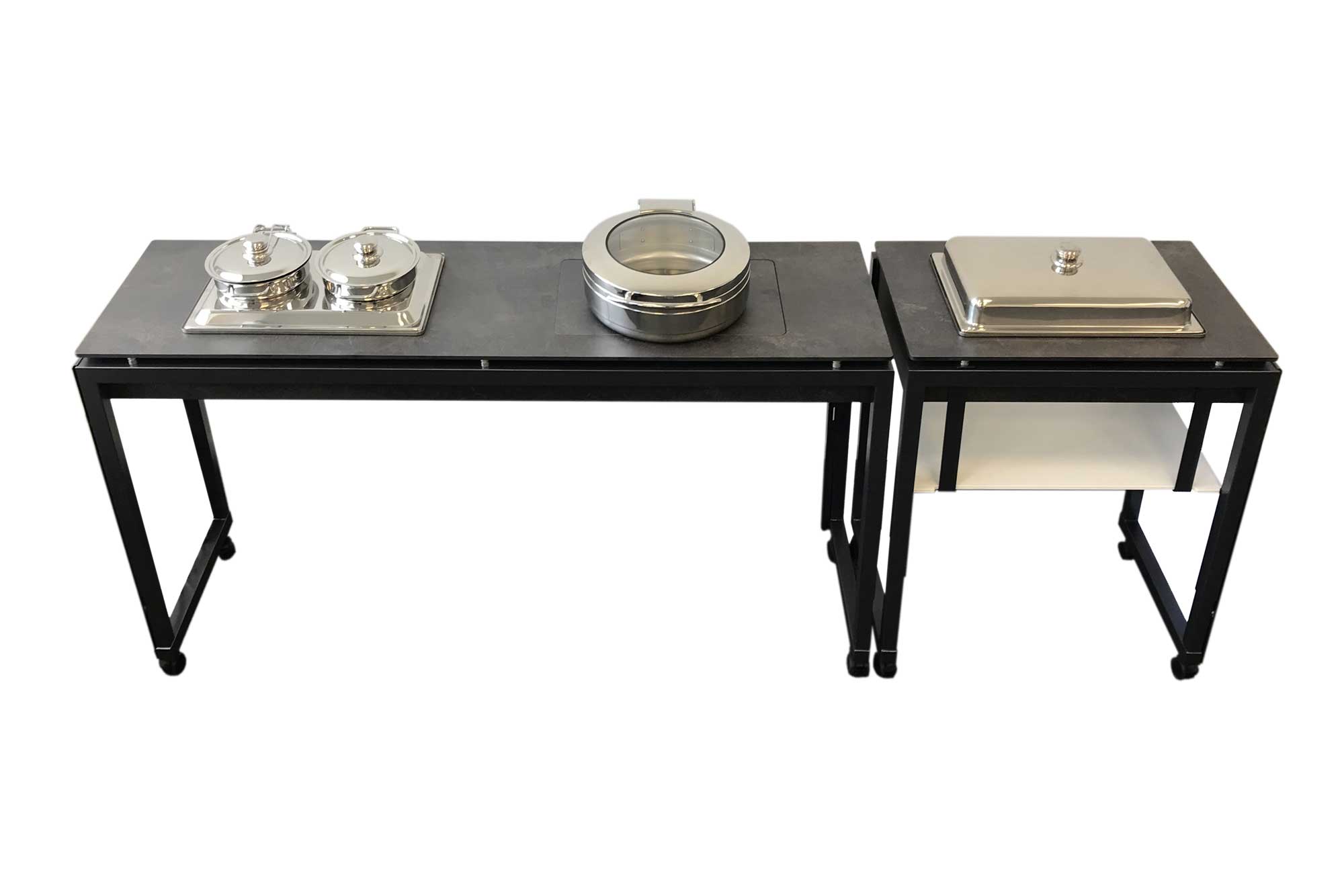 The mobile buffet table STAGE_80_M_CHAFING-DISH consists of a metal frame on castors and a table top made of the material "compact panel".
The idea is to integrate the CHAFING-DISH, which is often used in the hotel industry, into the table surface and thus give the proven warming concept a more appealing appearance. The table top is provided with four openings, into each of which a 1/1 GN built-in chafing dish can be inserted flush with the surface. When not in use, the openings can be completely closed with insert plates (included in delivery). The table top can thus be used as a practical storage area.
VENTA recommends the use of SPRING or WMF chafing dishes, as the accessories are similar in design. The electrical heating element is screwed under the respective chafing dishes and the heating power is controlled via the rotary knob attached to the cable. This control unit is mounted on a magnetic holding plate and can be invisibly mounted under the table surface when not in use.
The table can also be used with table top chafing dishes. It is recommended to use the round SPRING induction, which is available as a separate accessory.
The SPRING induction can also be inserted flush into the table top via an additional insert plate (material: compact plate). The operating unit for the temperature control is also magnetically fixed under the table top when not in use. It is important to use the silicone coasters supplied as prescribed. When boiling the water bath empty or during very long operation, too much heat is generated which radiates from the hot chafing dish. The silicone coasters collect this waste heat and thus prevent possible damage to the table insert.
The maximum of four heating elements (or SPRING inductors) can be supplied with power by two plug connectors located under the table. All cables are stowed under the table in metal rails and are therefore invisible to the guest at the buffet, as are the two cables for the power supply, which are each led invisibly to the floor in a cable duct on the rear legs of the table. Of course, this table can also be transformed into a practical table for cooling by filling it with crushed ice. The inserts in the chafing dishes can be filled very easily and emptied after use.
The table has an integrated height adjustment with whom the following table heights can be set: 84, 92 100 and 108 cm. The table frame stands on castors in three possible sizes (standard/diameter = 50 mm, additionally available in d = 65 mm and d = 75 mm), each with integrated brake.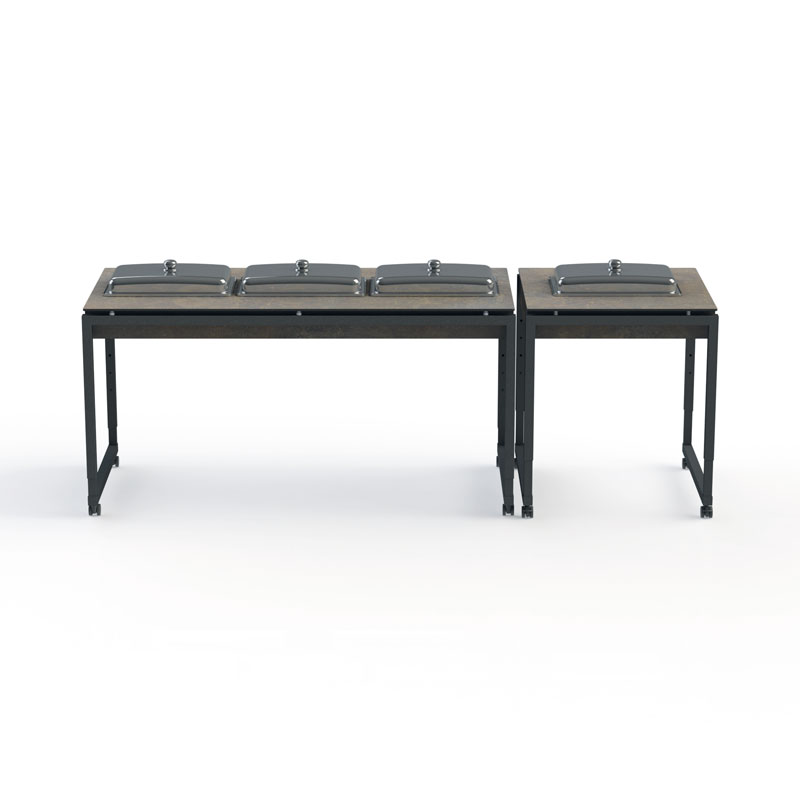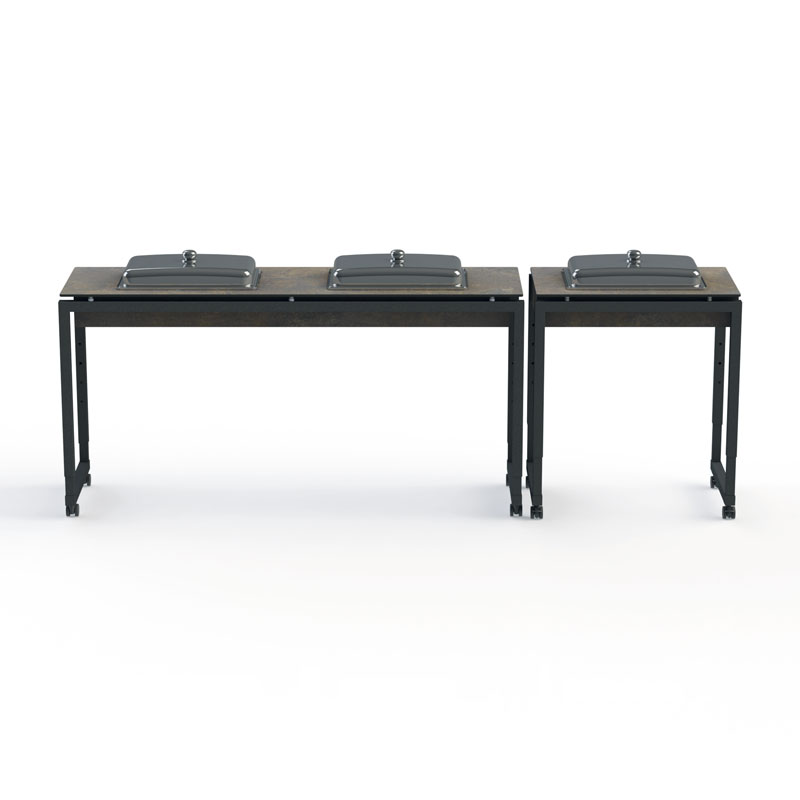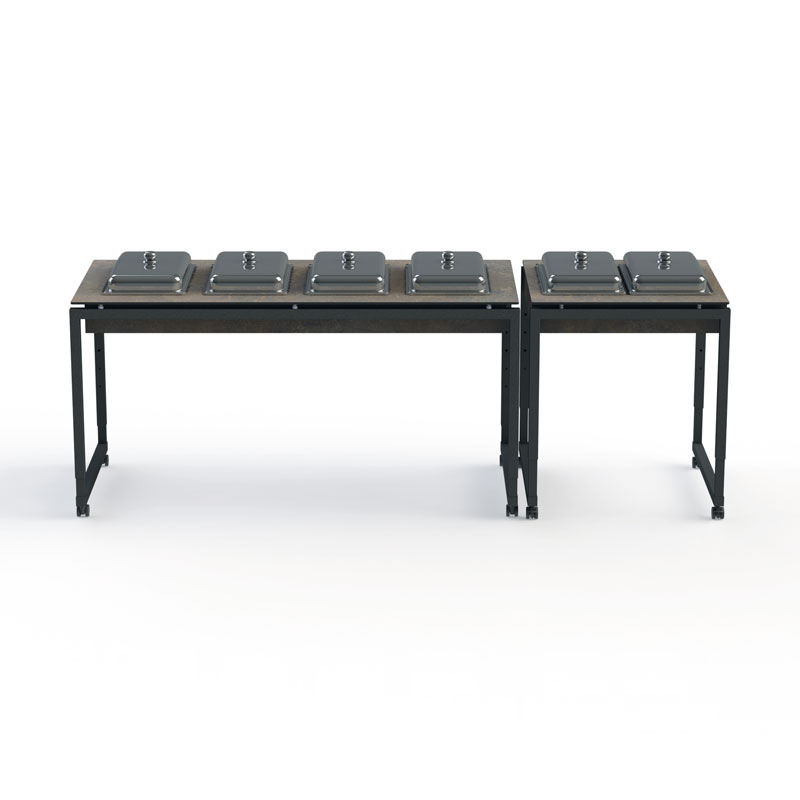 The VENTA chafing dish concept is available in a total of six table models:
STAGE_80_M_CHAFING-DISH_4
(four 1/1 chafing dishes arranged at right angles to the table length)
STAGE_80_M_CHAFING-DISH_3
(three 1/1 chafing dishes arranged lengthwise to the table length)
STAGE_80_XS_CHAFING-DISH_2
(two 1/1 chafing dishes arranged at right angles to the table length)
STAGE_80_XS_CHAFING-DISH_1
(one1/1 chafing dish arranged lengthwise to the table length)
STAGE_50_M_CHAFING-DISH_2
(two 1/1 chafing dishes arranged lengthwise to the table length)
STAGE_50_XS_CHAFING-DISH_1
(one1/1 chafing dish arranged lengthwise to the table length)