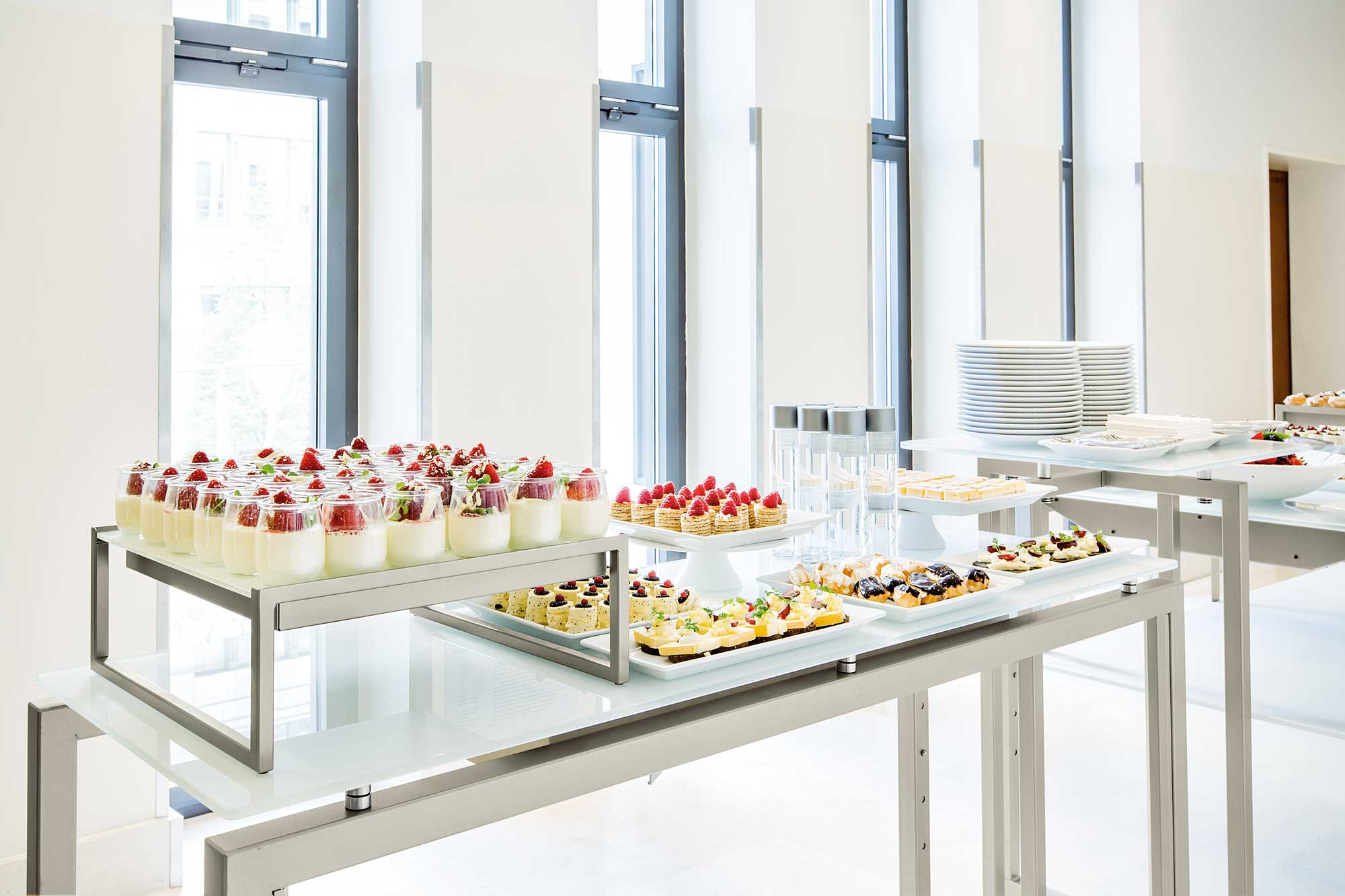 2h cooling
5°-10°C
on the glass surface
without electricity
The COOL RISERS are a combination of the STAGE_ETAGERE and the cooling batteries, which are inserted into the cooling table STAGE_80_XS_COOL. The batteries developed for the cooling table have a basic size of 35 x 35 cm, which determines the size of the COOL RISERS. Like the STAGE_ETAGERE, the COOL RISERS also consist of a metal frame and a base plate. In addition, however, a metal tray placed on the metal frame is used, in which a cooling battery can be placed. The glass plate is placed on top. To cover the cooling battery, only a lacquered glass plate can be used. The material COMPACT PLATE cannot be used here as a support, as it would insulate the cold of the cooling battery underneath. The glass plate, on the other hand, has better properties and lets the cold through or cools itself. Thus a temperature of approx. 5°C (at normal room temperature) on the glass pane of the COOL RISER is achieved with a cooling battery capacity. The cooling capacity lasts approx. 2 hours, after which the battery should be replaced. Before use, the battery must be cooled vertically in a freezer compartment or a freezer for at least 12 hours at -18°C. The battery should then be replaced.
VENTA offers two sizes of COOL RISERS:
STAGE_ETAGERE_COOL_SQ (40 x 40 cm) Height: 15 cm (equipped with a cooling battery)
STAGE_ETAGERE_COOL_RE (82 x 42 cm) Height: 20 cm (equipped with two cooling batteries)
Like the STAGE_ETAGERE, the COOL RISERS can also be placed under each other to save space.