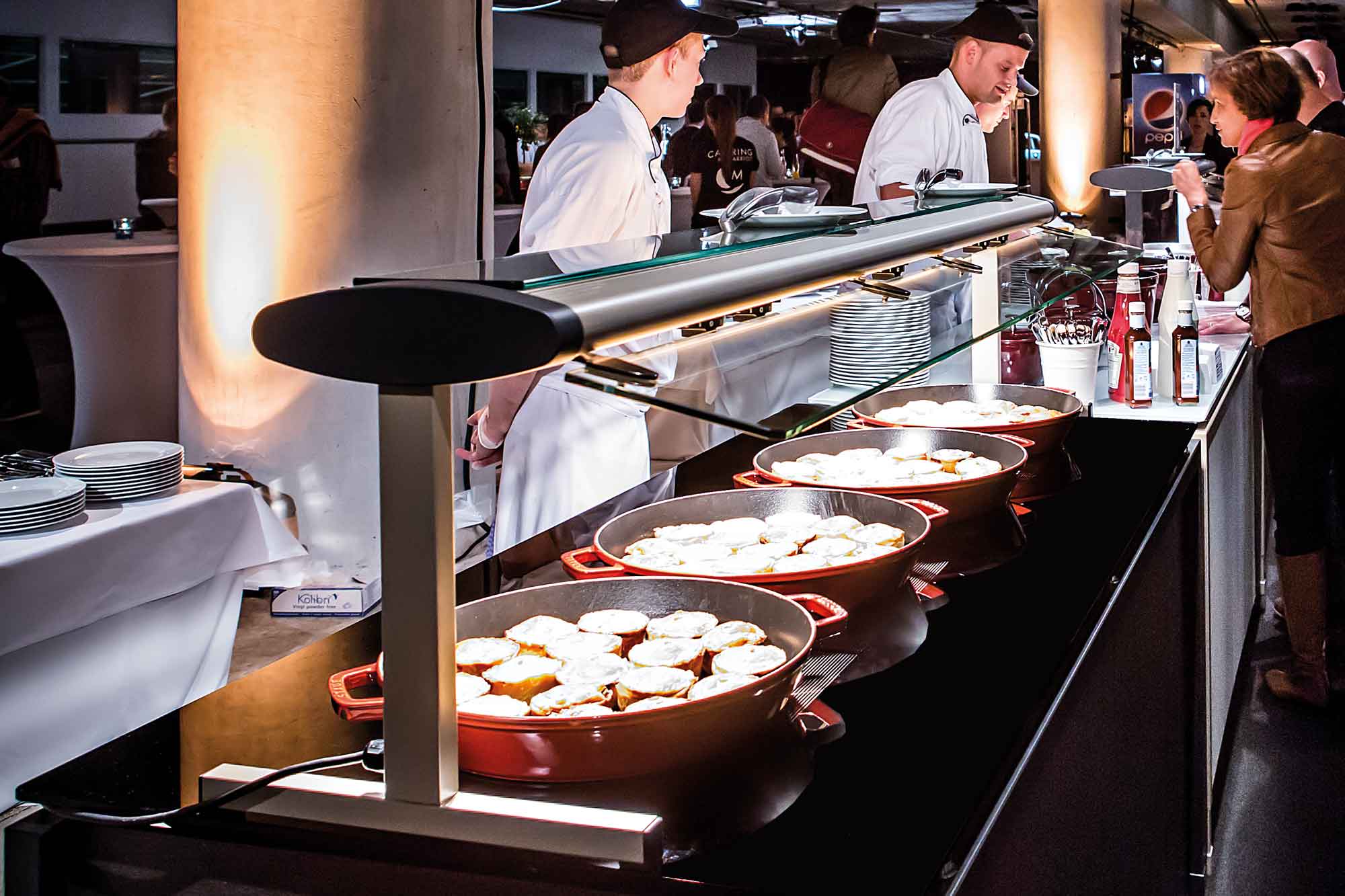 VENTA Offers Two Options for Keeping Food Warm at the Hot Buffet Station
The most efficient method is to use induction heaters that keep only the containers warm without heating the entire plate. VENTA has, for example, installed four induction units in a 180 cm long buffet table (STAGE_80_M_INDUCTION_2G) which offer space for many pots. Depending on the size, two to three pots can be placed on each of the four induction surfaces (35 x 35 cm). It is also possible to place 2/3 GN chafing dishes.
If pots and pans are used, a thermal bridge can be used. Due to the additional heat from above, the food can be presented in the containers without a lid.
The integrated "spit protection" in our top model "HEATBRIDGE_BEER" guarantees safety in the area of hygiene and offers the greatest possible comfort with its five individually adjustable radiant heaters.
The second option for the warm buffet is to use the classic chafing dish. VENTA has developed a buffet table line that integrates 1/1 chafing dishes almost flush into the tabletop. The use of chafing dishes is recommended for large events where many people have to be served. The logistics for food presentation is best and fastest to realize here. The food prepared in the 1/1 GN inserts is directly used in the chafing dishes without decanting. An electric heating system, which is screwed under the container, heats the water in the chafing dishes to approx. 90°C. Each chafing dish can be controlled separately via a control unit.
The use of FRONTBLINDS closes the front opaquely and thus offers the possibility of placing warming boxes with prepared food in 1/1 GN inserts behind them. This guarantees a quick supply of fresh food at the buffet stand.
Depending on the length of the buffet, areas can be closed with the practical FRONTBLINDS, while other areas deliberately remain open or additional shelves (SHELF) can be mounted here.
For a complete buffet the use of plate warmers is recommended in order to offer the guest an absolutely perfect pleasure experience with the pre-heated plate. VENTA has used Rieber's proven technology to integrate the RRV-H1 model completely into a VENTA table. The stainless steel body of the Rieber appliance is completely covered with VENTA_BLINDS and fits perfectly into the interior of the entire buffet line.