The Savoy has put a modular buffet system into its conference and meeting facilities as part of a catering upgrade at the venue.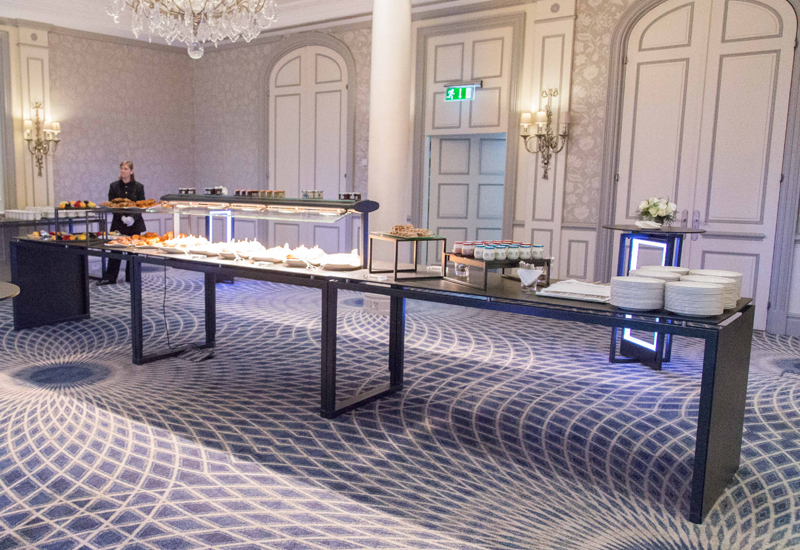 The iconic 5-star London hotel opted for the Venta modular buffet system after replanning its food presentation set-up for its event, conference and meeting spaces.
As well as meeting its requirements in terms of style, the system offers The Savoy the flexibility it needed as it can be easily moved from one room to another or stored in its own trolley system by easily removing the tabletops allowing for the frame to be dismantled.
Georgi Basoglu, director of events operations, said the versatility of the kit has delivered a number of tangible benefits.
"The Venta equipment has not only improved the look of our buffet display but it has made our life easier operationally, saving us time in setting up and cleaning down. The flexibility of the modular system means that a mix of equipment can be used in different conference rooms depending on that day's requirements."
It was also important for The Savoy's team that the aesthetics of the new system worked with the classic look of the hotel, whether the rooms were refurbished or not. Venta's contemporary style means it can fit a range of different hotel decors.
The Savoy selected a wide choice of Venta buffet equipment including induction tables to keep food warm, cool tables, ambient tables and risers plus an egg station for its breakfast offer.
Paula Sherlock, managing director of Signature FSE, which supplies Venta in the UK, said: "We worked closely with the hotel teams to understand their needs; it was key for us to know the maximum number of pax and typical room layouts in order to recommend the most suitable equipment configuration."