VENTA LIVE COOKING STATION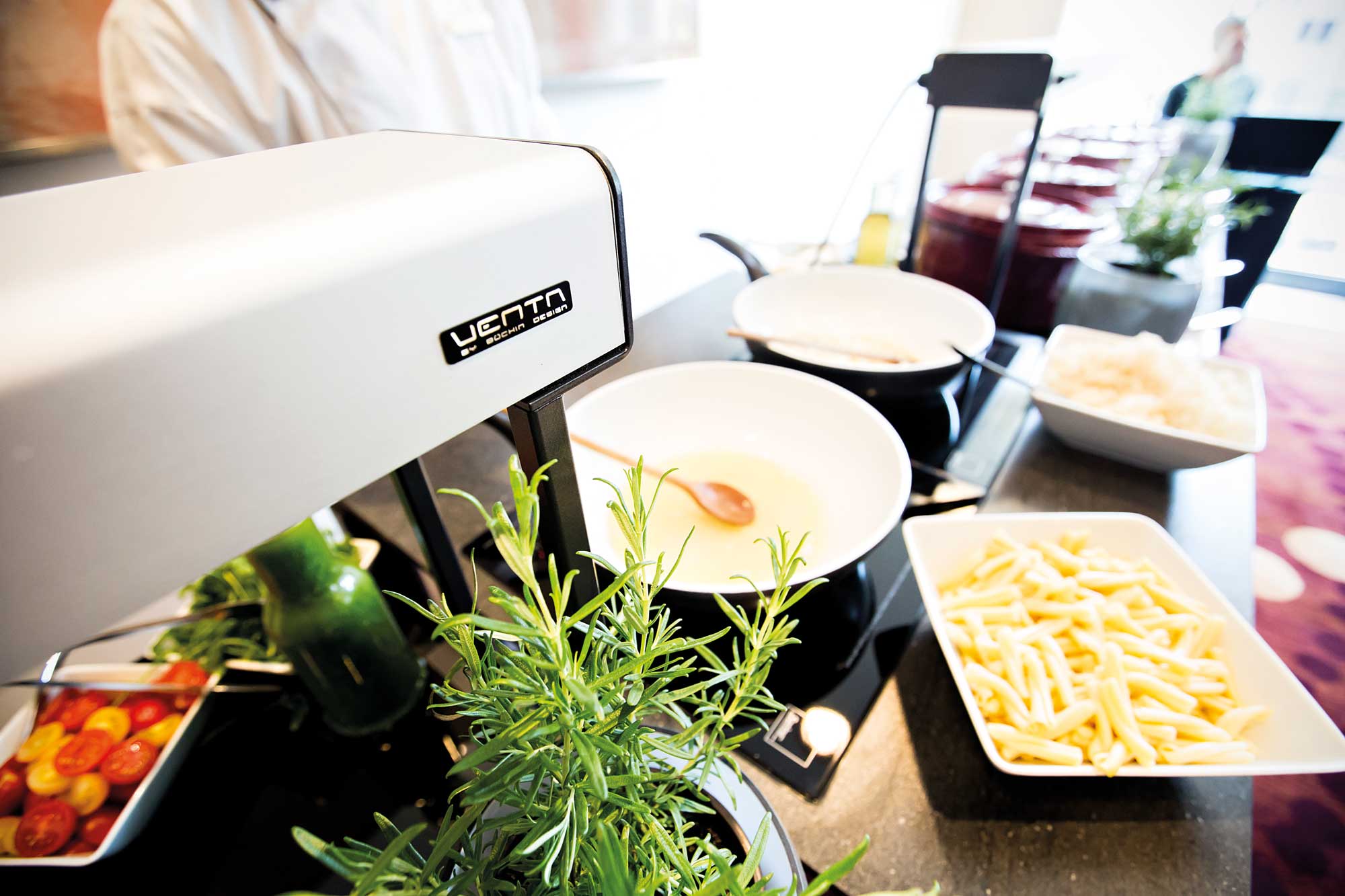 Live Cooking Offers Action and Event Character
In addition to the classic warm buffet area, the buffet section can be supplemented with a live cooking station. Live cooking offers action and event character for the guests and the possibility to prepare special dishes "à la minute". The dishes are not cooked in the classical sense, but merely given the final finish. Since the most storage space and space is needed here, we recommend the use of a complete covering of the tables with BLINDS. The use of shelves (SHELF and SHELF_LOW) also makes sense in order to make as much space as possible.
VENTA currently offers two systems for live cooking. The STAGE_80_XS_INDUCTION_COOK is a practical table with two flush-mounted hobs (2.5 kW per hob). The surrounding surface consists of the "compact plate" material which must be protected from the effects of heat by the silicone coasters supplied when hot pots or pans are set down. The two induction hobs can be controlled individually via touch control panels. A maximum temperature of 240°C can be set.
The second table for live cooking is the STAGE_80_XS_TEPPAN_GRILL. This table with a completely stainless steel table top has a special technology that allows a hot depression of 2 cm depth and 40 cm diameter to be created in the middle of the table. A 10 cm wide warming ring is created around the hollow, while the outer areas of the table are completely decoupled from the heat and remain cold. The temperature in the middle of the table is approx. 220°C, while the warming area is approx. 70°C. The table is heated to a temperature of approx. 240°C. Many dishes can be prepared on this table, whereby the short and sharp browning of meat or sea animals is particularly suitable.